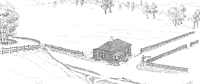 A Community History Project site

B
ackground - First Nations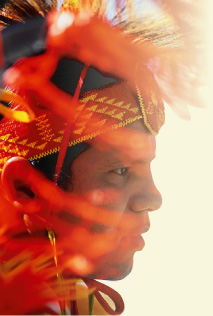 The ancient aboriginal peoples who came into the area as the Ice Ages ended are the subject of study by archaeologists, but we do know that they are the people who formed Ontario's oldest road – Davenport.
Elizabeth Simcoe (wife of the first Lieutentant-Govenor of Upper Canada, John Graves Simcoe) mapped Davenport Road in 1796 as running from Montreal to Niagara. Only the section between the Humber and Don Rivers is still in its original location.
The aboriginal landowners of Toronto were the Mississaugas, one of three branches of the great Ojibwa nation that was the largest group among the First Peoples of Canada when Europeans arrived.
The Mississaugas of the Credit – now the Mississaugas of the New Credit First Nation - were the aboriginal landowners of Toronto. The first phase of the Toronto Purchase took place in 1787 and, after the next phase in 1805, the Mississaugas were pushed out of Toronto to the Credit River. With the next purchase of their land – the Mississauga Purchase – they were displaced again and had to go to their own lands that had been granted to the United Empire Loyalist Six Nations at what is now Ohsweken. These lands they eventually purchased back from the Six Nations and

the New Credit Reserve today is near Hagersville. During the 19th century, there were Mississaugas still scattered along Davenport Road who found employment on the farms then being developed. Every year, the Mississaugas of the New Credit visit the Tollkeeper's Cottage to share their history and culture with people in the local area. Their own pow wow takes place on the Reserve each year on the 3rd weekend after Simcoe Day (first Monday in August). The public is welcome.
For further details, visit
www.newcreditfirstnation.com
and see the CHP pamphlet "
Toronto's Landowners
".