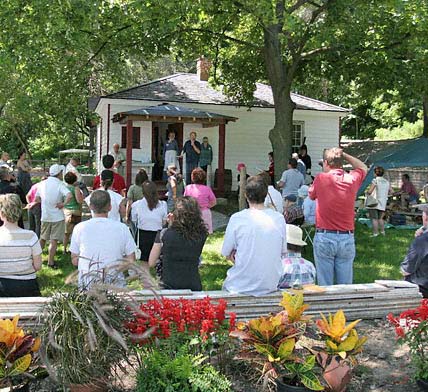 The Tollkeeper's Bulletin
(cursor over to stop scrolling)

The Museum is open every Saturday from 11 am - 5 pm

Open also Mon Sept 7 from 1pm to 4pm
The 2015 Annual Community History Project General Meeting will be held Sunday Sept 13 1:30pm - 4:30 pm. This year the public is invited, but only current membership can vote and run for Board positions.

We also will have the privilege of hearing from Wendy Smith, this year's guest speaker. Wendy is the winner of the 2014 Heritage Toronto Award of Excellence (Media) and will be presenting "Introducing Edward Harbord" the story of the British Lord who played an important yet very little talked about role in the British anti-slavery movement. We invite you to RSVP for this year's AGM by email or by telephone to 416- 515-7546.


Now on Twitter...



the
Tollkeeper's Cottage
The oldest structure
of its kind in Canada - now
a museum about tolls, roads,
and nineteenth century life
owned, restored and operated
by the
Community History Project
(now a charitable organization).

Located at the corner of
Bathurst St. and Davenport Rd.
(Toronto, ON)
in The Tollkeeper's Park.

We're open Saturdays
11am - 5pm Summer
11am - 4pm Winter
and the occasional Sunday 1-4pm such as Aug 23 as well as labor day 7 Sept
Community groups can use the space for meetings also



Look for the Blue Canoe near our commemorative birch trees. Thanks to the wonderful people at City of Toronto Parks Department, the David Suzuki Foundation, and the Mississaugas of the New Credit for making this possible.


Educational class tours (in English
or French)
or Educational adult tours can be arranged. (teachers and administrators may wish to print out the brochures referenced)


There are gift-type items for sale at the museum such as: maple syrup, books on local history, hand-made pure soap, apple syrup and apple butter, and other recipe collections.

We have Tollkeeper's Cottage Tee shirts for sale
We have just started selling hand-made dolls' clothes suitable for American Girl and other 18 inch dolls.
Watch yarn being spun by a spinner in period dress! Volunteers wanted

See a new video tour of the Cottage