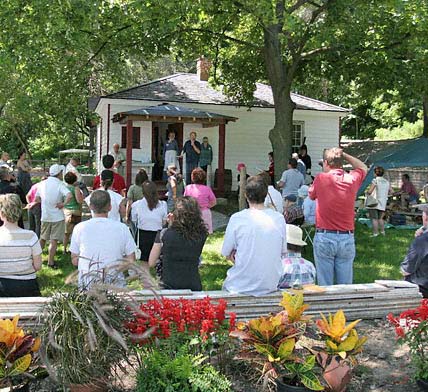 The Tollkeeper's Bulletin
(cursor over to stop scrolling)

We're Open for Visitors Saturdays

Our neighbourhood has been honoured at the Ontario Legislature with a
display about the Tollkeeper's Cottage. It's there till July 10. Drop in to
see it! It's near the front entrance to the left of the central staircase.

Victoria Day at the cottage coming . Have Victoria Tea at the cottage and in the gardens.. $7 includes scones, tea etc.. May 18 from 1 to 4pm



Now on Twitter...



the
Tollkeeper's Cottage
The oldest structure
of its kind in Canada - now
a museum about tolls, roads,
and nineteenth century life
owned, restored and operated
by the
Community History Project
(now a charitable organization).

Located at the corner of
Bathurst St. and Davenport Rd.
(Toronto, ON)
in The Tollkeeper's Park.

We're open Saturdays
11am - 5pm Summer
11am - 4pm Winter

Community groups can use the space for meetings also



Educational class tours (in English
or French)
or Educational adult tours can be arranged. (teachers and administrators may wish to print out the brochures referenced)


There are gift-type items for sale at the museum including: maple syrup, books on local history, hand-made pure soap, apple syrup and apple butter, and other recipe collections.

We also now have Tollkeeper's Cottage Tee shirts for sale
Volunteers wanted

See a new video tour of the Cottage