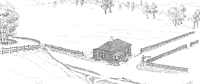 Contact Us -
BIg news: Official word has been received that, effective June 1 2009, we are formally registered as a CHARITABLE ORGANIZATION ( rather than a non-profit society.). Our official name is the COMMUNITY HISTORY PROJECT. Now we will be able to issue tax receipts directly for donations. Please call

The tollkeeper's cottage is located in The Tollkeeper's Park (formerly Davenport Square Park) on the northwest corner of Davenport Road and Bathurst Street, Toronto, ON, Canada. [N43°40'36.2" W079°25'00.8" ± 6m]. For a map, click here. Its street address is 750 Davenport Rd. Toronto. Its mailing address is c/o Community History Project c/o 207-580 Christie St M6G 3E3 .

Contacts for the Community History Project ("CHP") (owner of the tollkeeper's cottage and this site) follow. Please be mindful that both CHP and the tollkeeper's cottage project are run entirely by volunteers, with all that implies re their availability. While we do our best, response time to your enquiries may be longer than you'd wish. If you're in a hurry, the best bet is to send a message to the email address below. To contact the webmaster, please use the webmaster e-mail address provided below.
The cottage is available for rental to community groups looking for a place to hold meetings. On-street parking is available, and the cottage is handicapped accessible. The maximum capacity is 35 people. Email us for more information.



Email: tollkeeperscottage@gmail.com




Donations:
YES PLEASE! - We can now take electronic donations... check out this form to:



Webmaster: For questions, comments, or suggested improvements regarding the use or web-related technical aspects of the site, please email webmaster@tollkeeperscottage.ca




A Community History Project site