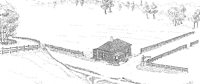 A Community History Project site
D
iscovery!
Moved and transformed several times over the intervening 150 years,
the tollkeeper's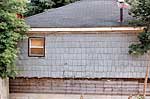 cottage -
minus its front porch and rear addition - was "discovered" in 1993
on a residential site on upper Howland Ave
. that was slated for redevelopment. A neighbour (Kulle Milles), who fortunately knew something of the cottage's history, contacted the Community History Project to advise that a rare extant tollkeeper's cottage was in danger.
The report was at first met with some scepticism - surely such a rare building couldn't still be around! But CHP decided to investigate, and over the next three years the more they researched the clearer it became that the neighbour was right! The previous owners also confirmed the report.
In 1996 the property was to be developed,
and the developer (Peter Dais, a principal of Victory Estates) was approached and immediately agreed to sell the cottage to the Community History project for $1 and delayed starting the development for 30 days to give time for the cottage to be moved.
The accompanying photo shows the Cottage "as discovered", hidden under layers of siding and other changes added over the years. The small window is the original "tollkeeper's window" from the mid-1800's.
The Cottage is of a very rare vertical plank construction, a style used for a short period in the early 1800's. It's believed to be one of the only early tollhouses still surviving anywhere in Canada.
(note this possible other)