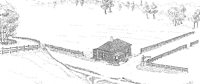 A Community History Project site
We're Open!

The historic Tollkeeper's Cottage, believed to be Canada's only surviving tollgate from the 1800s (or earlier), certainly the only one available to the public, is open for visitors (non pandemic!) on Saturdays from 11am - 4pm in the winter, and 11am --5 pm in the summer. Admission by donation to help offset on-going operating costs.

Briefly, the Cottage was "rediscovered" in1993, and a few years later research began in earnest re its origins and history. It's dated at 1835 (the interior has been restored to the 1860's) and was operating as a tollgate and home for the tollkeepers' families at least from 1850.

It's of a very rare vertical plank construction - a style used for a short period in the early 1800's. Its history as tollgate #3 on Davenport Road - whose history dates back to the end of Ice Ages when the passageway was used as a footpath by the First Nations people - is fascinating.

More complete descriptions of the Cottage's background, discovery and restoration are available elsewhere on this site. For images, please select "Slideshows" from the main menu.

The Cottage is also available for rent (in order to support operating costs):
- Limit 35 persons inside - no capacity limit outside;
- One single unisex fully accessible washroom;
- Space is $40 per hour - extra charges for use of certain equipment;
- Limited parking is available along Davenport. There are also large parking lots one block south of Davenport and east of Bathurst on Bridgman Ave.
Arrangement for groups, such as school tours, seniors' groups and other groups must be made in advance by emailing us at tollkeeperscottage@gmail.com . Thanks to Zeitguys inc, we now have brochures for both school tours (English and French ) and Adult groups.
TTC access from the subway:
.......... Take the #7 Bathurst bus from the Bathurst subway station, north to Davenport Rd.
.......... Take the #127 Davenport bus from the Spadina subway station, or the Dupont subway station, west to Bathurst St.


From time to time special programs will be announced.

Special events: Victoria Day Tea, St. Patrick's Day Tea, December cookie sale, Strawberry Social