The Mississaugas of New Credit are the aboriginal landowners of Toronto who were forced out of the Toronto region after 1805 and sent to live at the Credit River (in today's City of Mississauga) until they were forced out of that area as well.

With no place left to go, as all of their other lands in southern Ontario had been taken over by the government, they were invited by Chief Joseph Brant to go to live on part of the lands given by government to the United Empire Loyalist Five Nations League (now the Six Nations Confederacy).

These lands along the Grand River were originally Mississauga lands for which they have not been paid, and in 1923 when the New Credit Mississaugas received some government money under the Williams Treaty, they bought two blocks of the Grand River tract from the Six Nations - in effect buying back from the Six Nations their own land for which the government has still not paid them. The two blocks where they live today are called the New Credit Reserve located near Hagerville, ON.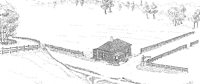 A Community History Project site
Tickets: $15 per lecture or $50 for the series of four. They can be purchased Saturdays at the museum (10 am - 5 pm), from a CHP member or by calling 416-515-7546 or just pick them up at the lecture (if room available). Tickets are limited to a maximum of 30 people per lecture.

Where: The Tollkeeper's Cottage, NW corner of Bathurst and Davenport.

When: Starting promptly at 7 pm.

There will be a break part way through the evening for tea or coffee. After each lecture, the lecturer will accept questions from the audience.
 

The Tollkeeper's Cottage is a museum wholly owned and operated by the Community History Project – a local history society serving on a volunteer basis. The museum is in a restored historic building dating from around 1835 and is a rare remnant from the beginning of the 19th century tolling system in Upper Canada. The restoration has been to the building's earliest start – 1835 – but has been furnished with antiques up to 180 when a family of nine lived in the building's three rooms.. Designated by the City of Toronto, the Tollkeeper's Cottage is of national significance as it is the only historic tollhouse known to have survived into the present time, and it is also rare for its vertical plank construction. In period dress, trained docents are on duty every Saturday (non pandemic) from 10 am until 5 pm (4pm winter--closed between Christmas and New Year) and will take visitors on a tour for a modest donation. The museum is not subsidized by governments and raises its own operating costs through these donations and various fundraising programmes. Some items now part of the museum are extremely rare and interesting, but you will have to visit to find out what they are! And yes, very selected furnishings are still being accepted into the collection but only after being vetted by an expert.
Additional Events and details are provided here and on the bulletin board at the Cottage as soon as they become available

Some of the annual programmes that may be offered at the museum are: a series of lectures by experts in a spring and fall series on various historical subjects, knitting, rug-braiding, a Food Focus series of events featuring indigenous Canadian foods (berries, nuts, etc. and actual recipes using these foods as taken from historic sources. Special arrangements can be made for school classes, seniors and other group tours or special programmes preferably by emailing tollkeeperscottage@gmail.com or calling and leaving a message for rates and dates. The modern addition to the historic building can also be rented for special events such as meetings, receptions. The museum is open at special times throughout the years, for example for selected Wednesday evening lectures. The museum has events such as Victoria Day Tea, St. Patrick's Day Tea, December Cookie sale, Strawberry Social. Visit this website periodically to learn more about these and other events. Contacting us by email at tollkeeperscottage@gmail.com – .

article in Town Crier by Eric Emin Wood about the cottage.


Watch this site for changing tidbits on local history, announcements of new programmes etc.



Virtual tour of the cottage (thanks to Andrew Jones)