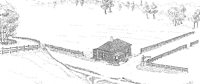 What's New? -

Please consult events page for current events, which are added periodically. Also read the Scrolling Bulletin on the home page for upcoming events.

New brochure for adult tours, as well as brochures for school tours (English) (French)

NEW TWITTER Feed



video tour of the cottage (May 20, 2015)

Thanks to David Stringer for creating the video,





,
Virtual tour of the cottage 2017(Thanks to Andrew Jones)

.

A Community History Project site